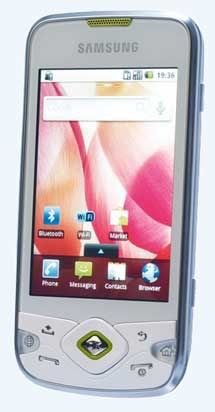 Videos Samsung galaxy from Youtube
Samsung, the industry's second-largest mobile device manufacturer, lags in the smartphone market where it is the fifth-largest player (behind Nokia, RIM, Apple and HTC).
Samsung plans to raise its smartphone sales target for this year to more than 20 million units, up 2 million from an earlier target.
Samsung's new flagship Galaxy S is their platform for this clallenge. It will soon be available on all the top mobile operators in the United States, including AT&T, Verizon, Sprint and T-mobile.
- Sprint yesterday announced plans to offer the device over its WIMAX network (branding it 'Epic'). Sprint will include a 16GB microSD card with the Epic 4G. Sprint says it will be available later this summer.
- T-Mobile will be the first US operator to launch Galaxy S on July 21, branding it the Vibrant and selling it for US $200 with a two-year contract.
- AT&T will sell it as 'Captivate' but has not revealed launch dates
- Verizon will sell its version as the Fascinate and expects to offer the device by late summer or early autumn.
All Galaxy S variants include Samsung's 1GHz A8 Cortex Hummingbird processor, Android 2.1 operating system with TouchWiz 3.0, 5 megapixel camera with 720p HD video capture, 802.11b/g/n Wi-Fi, and Swype Software for the on-screen of QWERTY keyboard.
All five will be among the first to ship with Bluetooth 3.0 which offers high-speed data transfers between devices. Bluetooth 3.0 uses the Bluetooth link for negotiation and link establishment, but high data rate traffic is carried over a colocated 802.11 link.
The South Korean vendor claims over 100 operators worldwide have already decided to offer the smartphone. Canada's Bell Mobility will reportedly offer the device this summer branded as Vibrant.
James kendrick has a Cheat Sheet for the Top 6 Android Phones.
The iPhone 4, Droid Incredible, Evo 4G, and Nexus One are compared in this chart by Bill Shrink. It compares the costs over a two year contract.
AT&T's new $15/month plan maxes out at 200MB. Their new "unlimited" $25 plan is now capped at 2GB - with $10 per 1GB in overage fees. That makes using video chat impossibly expensive if you want to capture an extended event. A "4G" network like Sprint's WiMAX service - with truly unlimited service - may be a virtual necessity for heavy video use.
By Sam Churchill, www.dailywireless.org