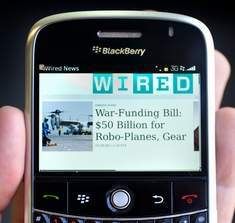 Why is there no Sirius XM application for BlackBerry? They have it on other platfroms, and since BlackBerry represents the largest smartphone market in the US,
it would make sense for them to cater to that crowd.
It's been over year and a half since QuickPlay began offering a limited XM, featuring only 20 channels for $7.99 per month. So what gives?
I'm not sure what's going on, but there is reason to be optimistic. Brandon Matthews of Satwaves found a press release that suggests that Sirius XM could come along with the BlackBerry 9700.
The press release is for the 9700's release on Bell in Canada. Per the release, "the BlackBerry Bold 9700 smartphone will also deliver great Bell Mobility mobile data services including GPS location, Live TV,
SIRIUS Satellite Radio, and Unlimited NHL.
"
The fear, of course, is that this is limited just to Bell and won't be offered on the 9700 on AT&T and T-Mobile. It could be something like Verizon's V-Cast, which offers multimedia options that you can't get on other carries.
That, of course, would be a major bummer. I think that a Sirius XM application for BlackBerry would go over well with the user base, and could certainly attrack even more customers.
New subscribers wouldn't even need a radio unit for their car if they have an auxiliary jack-thd BlackBerry could act as the receiver. Plus, it would mean Howard Stern all the time.
The lack of a Siriux XM application is one of the more disappointing aspects of BlackBerry streaming audio. Other streaming audio applications, like Pandora for BlackBerry and Slacker Radio,
offer excellent alternatives, but there are still things you can't get on those that you can on Sirius XM. We can only hope that this service comes to all devices soon, and not just for 9700 customers on Bell.
By Joe,www.bbgeks.com