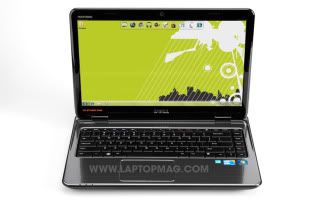 Videos Dell Inspiron 14 from Youtube
Dell's update to its venerable Inspiron line has a new look and plenty of power. Aimed at the back-to-school crowd, the 14-inch competition. For example, the Lenovo ideaPad V460 weighs 4.8 pounds,
and the HP Pavilion dm4 weighs just 4.4 pounds, Still, the 13.5 x 9.7 x 1.3-inch system looks fairly sleek, complete with rounded edges and tapered sides. Dell's hinge-forward design, similiar to that of its updated Inspiron Mini netbooks, makes the back bulkier but allows for extra battery space.
The glossy lid shows off the notebook's color-a metallic Peacock Blue, a $40 premium-but collect fingerprint like a crime scene (other colors aside from the standard black are Tomato Red and Promise Pink). This also goes for the bezel around the glossy display under the lid, though thankfully the deck-plastic painted to look like brushed metal-has a smudge-resistant coating. Dell didn't clutter the deck with many lights or buttons, settling for a white, glowing power button on the upper left and three small lights on the bottom left.
HEAT
To test temperatures, we played Hulu at full screen for 15 minutes, then measured the space between the G and H keys (97 degrees Fahrenheit), touchpad (101 degrees), and the center of the bottom (101 degrees). When using the Inspiron 14R in our lap we noticed that the system became uncomfortably hot on the left side near the vent, which reached 106 degrees.
Keyboard and Touchpad
The full-size keyboard features comfortable, terraced keys that offered good tactile feedback and response. We were able to reach our normal typing speed immediately, and none of the keys were undersized or in weird places, so it was also easy to execute keyboard shorcuts.
We appreciated the generous, 3.8 x 2-inch touchpad with discrete left and right mouse buttons. Though it's multitouch-enabled, the touch surface wasn't overly sensitive as we've seen on some other Dell systems. At first we found the sensitivy too low; two-finger scrolling took more precision than we expected, and it took a few hours to get used to. The Synaptics driver offers settings and tweaks (go to Control Panel > Mouse) for the multitouch gestures and a sensitivity slider to make adjustments.
By K.T Bradford, www.laptopmag.com